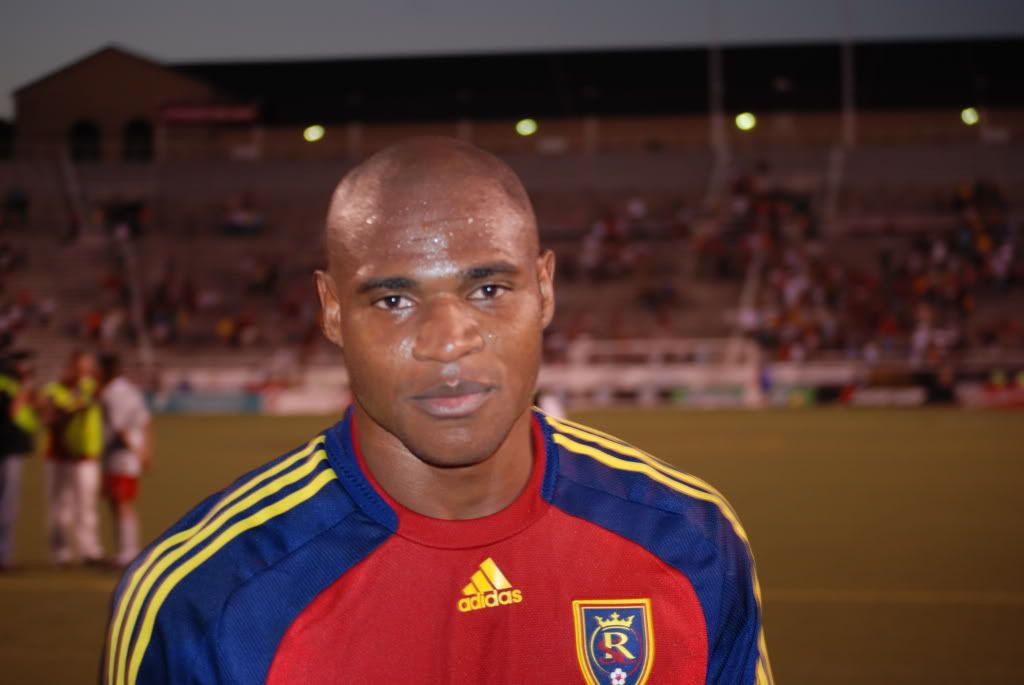 Note: Before the interview with Jamison, I wondered if one mistranslated word could mean the end of Chris
Maag
and myself as I'm quite certain Mr.
Olave
could crush the both of us with one flex of a calf muscle. But, much to my relief, we are both alive and well. Furthermore, I cannot say enough about my impressions of Jamison. Even though I could only understand a very small portion of the (99 percent Spanish) interview, I found him to be extremely friendly, courteous, humble, and well spoken. I could not help but leave the interview wanting to see this man succeed in life.
The following questions and answers were translated and condensed by Chris
Maag
. Chris is an avid
RSL
fan (a proud member of Section 22!), and an excellent teacher at my children's Junior High School in Roy, Utah. We will be breaking this interview up into parts. For all of you Spanish speaking folks; we are currently contemplating posting the full (raw) audio file of this interview, so please check back at a later time for that.
1) What are the main differences between Salt Lake City and where you are from in Colombia?
Colombia is a much more animated and exciting. Salt Lake city is more chill and the people seem more dedicated to their families. It is much safer here in Utah than for most in Colombia. It's something we've been working on.
2) Do you know your neighbors here? Is it like Latin America where everybody knows their neighbors?
I live in

Sugarhouse

and I know just a few of the people who live across the street. I don't know anybody here really.
3) Not knowing anybody, what does that make your day like? What do you do?
I get up and I train. When I get home I take care of my house, unless I'm too tired. I watch the news, and I get on the Internet to talk to my kids and my family.


4) Jamison talks about his kids:
I have a 10 year old boy and a 3 year old girl. They haven't had a chance to visit Salt Lake City yet as they are still waiting on their papers. If I'm still here, we will work on getting their papers together.


5) Did you have a chance to visit them during the 18 day break?
Yes, I had a wonderful opportunity to see my children and my girlfriend and we had a beautiful time together.

6) Have they had a chance to watch you play?
They have seen me play and are very proud.
7) What has

RSL

done to help you feel comfortable with the team and players?
I have

Tino

Nunez, Fabian

Espindola

, Javier Morales and others who have helped me translate what the trainers have asked of me. The rest is up to me to learn English. I've taken class and visited places around town to get to know Salt Lake City better on my time or with other players.
8) Do you like living in Salt Lake City?
I really like it. It's a place where you can raise children without fear, much unlike Colombia. I also saw snow for the first time in some of my first training sessions with the team and took a bunch of pictures to send to my friends and family in Colombia.
9) In Colombia you've been known to have a temper on the field, is it true? Have we seen this on the field?
I've always played aggressive and with desire. It's just the way I am.
10) Which teams in Colombia have been your favorites?
The professional team of Medellin was my home town team, but more recently

Deportivo

Cali because they discovered me and they gave me the opportunity to play, and got me here to where I am now.
11) You almost went to

Millionarios

. What happened that you didn't end up there?
There was a change in coaching and I told them I would like to go, and as they were preparing to send me to

Millionarios

, there came an opportunity to come to the United States to play and I opted to come here.
12) Which country has better football between the United States and Colombia?
The game is different in both countries.

Colombian

football is a little slower and more technical. There are more shots on goal and it almost seems to take turns. Here, the football is much more aggressive and fast paced, kind of like

English

football.
13) Which do you like better?
I like it here, the pace is faster, and more intense.
14) What are your goals as a soccer player?
A football player should aspire to big and great things. One of my goals is to reach a level of soccer where I would be playing in a country where soccer is the main event, and played at the highest level. Europe is my highest goal.
15) How has your first season with

RSL

gone?
At first it was difficult. New team, new country, new language, but I endured and thanks to God, through hard work and determination, I'm moving forward and improving in all of these changes.
16) Is there another gear, or another level, of Jamison

Olave

we haven't seen yet?
I think, as a footballer, that there is always room to improve, or another level to aspire to. I am training and working each day to improve and get to the next level.
(to be continued)