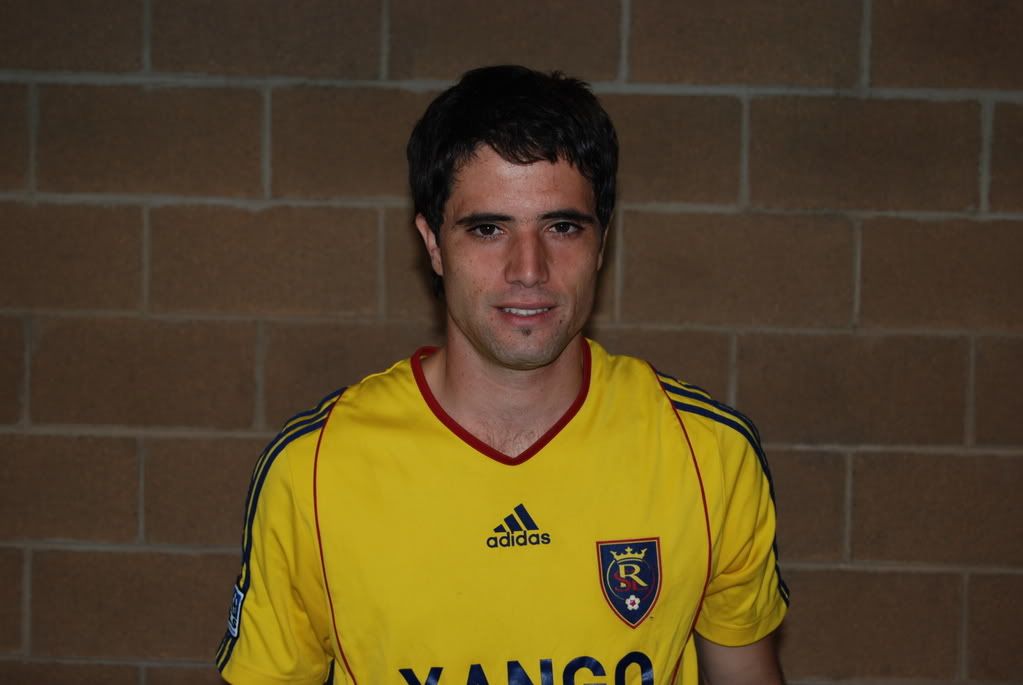 I was saddened, but not surprised to hear that Matias Cordoba had asked yesterday to go back to his homeland, Argentina:
Deseret News/Cordoba
. If you take a look back at the preseason, Garth had described Matias as "our most important acquisition", "a mix between Javi Morales and Kyle Beckerman" and "a two-way midfielder with good foot skills". There were high expectations for him coming in, which were never really met. It's easy to place the blame on the player, but this raises several questions:
Was the original assessment greatly overstated?
Did he get a fair chance with the team?
Was it just a poor fit for both sides?
Did Matias not give his best effort?
Here are some revealing thoughts that Kreis' has given:
"We're not talking about a proven Argentine player, either; he's still young and he doesn't have a boat load of first-team games, either, down there, so I think he's still a developing prospect," said Kreis. Really? How does this fit with the pre-season hype about Matias?
Following Monday's training session, one in which RSL coach Jason Kreis said Cordoba trained very hard, Cordoba approached the coaching staff and said he wanted to return to Argentina. This doesn't sound like a player not giving his best effort.
"I knew he was unhappy and he wanted more playing time. I think he's going back to Argentina to play," said Kreis.
Is this an indication that it was just a bad fit?
My feeling is that this was a combination of things. First of all, unreasonably high expectations. Sometimes scouting in the MLS leaves alot to be desired, and RSL actually has put more of an emphasis on this than most. By all accounts, Cordoba had the potential of being a good linking player who has the technical skill to fit in well with Morales and could have helped RSL build a style of futbol with a real latin flare. So what happened?
By all accounts, Matias arrived in the States out of condition and struggled to find his spot on the team right from the start. He started out as a reserve player, and never really broke free of this role. Here is somewhat of a chronicle of his time with the team -
It's Now or Never: Matias Cordoba
. He did some good things in reserve matches, looked quite good in the Open Cup match against San Jose, and quietly did some nice things in league matches but did not really wow anybody.
Unfortunately Matias never got to the point where he was comfortable in his role with the team. If he had a starting role, felt comfortable with his role, his coaches and his teammates it's possible that we would have seen different results. I think instead of blaming the player or the team, this may be a case of just being a bad fit.
On another note, I am going to miss Matias because of the way he treated people. He was quiet, unassuming but came up and shook my hand after every practice. I sent him pictures along with a quick note on a couple of occasions and he always sent back a thoughtful message in reply. My kids especially loved Matias and were his biggest fans.
We're gonna miss ya, Matias! Best wishes!
Here are some action shots of Matias in an RSL kit:
PHOTOS #1: :PHOTOS #2